ROLLHILL
Welcome to ROLLHILL!
A physics based racing game where you freeroll single wheel down the hill! Just gravity and balance!
Your key to success is stabilizing the wheel while maintaining a trajectory to stay on track. Sounds easy at first, but takes some time to master!
Now, have you got what it takes to be the ROLLHILL champion?
---
WHAT YOU GET
Current preview brings 5 levels of varying difficulties and dynamics where you can learn the basics and eventually compete to set best times!
If you think you have got a record time, screenshot-share your run score in comments below!
Yeah, we know that's a ghetto system, please bear with us for now.
While alpha, this is a fully playable game showcasing the core mechanics, but in our minds, it's far from being complete. We launched now to start gather feedback and hear your opinion!
---
CONTROLS
Desktop & WebGL:
- LEFT / RIGHT arrows to BALANCE
- SPACE / ENTER to QUICK RESTART
- ESCAPE to PAUSE
- DESKTOP: Use launchers Input tab to rebind controls
Android:
- TAP & HOLD .. LEFT / RIGHT sides of the screen to BALANCE
- Use TOP RIGHT buttons to PAUSE / QUICK RESTART accordingly

---
ADD TO COLLECTION ... FOLLOW ... LEAVE FEEDBACK
Make sure you add ROLLHILL to your collection to be one of the first to receive updates! You are also welcomed to follow our teams profile!
Please do report of any bugs, suggestions or any other feedback you might have in the comments section!
---
BEHIND THE SCENES
We are two people working on ROLLHILL:
- Imants Bērziņš (@elvensight): LEVELS & PHYSICS
- Toms Seisums (@tomsseisums): SCRIPTING & UI & SOUND
| | |
| --- | --- |
| Status | In development |
| Platforms | Windows, macOS, Linux, Android, HTML5 |
| Rating | |
| Authors | mindboiler, Toms Seisums, Imants Berzins |
| Genre | Racing |
| Made with | Unity, Audacity |
| Tags | 3D, Casual, Physics, Singleplayer, Time Attack |
| Average session | A few seconds |
| Languages | English |
| Inputs | Keyboard, Mouse, Xbox controller, Gamepad (any), Smartphone |
| Accessibility | Configurable controls |
| Links | Twitter |
Download
Click download now to get access to the following files:
RollHill Alpha 1 (Android)
37 MB
RollHill Alpha 1 (Windows)
29 MB
RollHill Alpha 1 (MacOS)
47 MB
RollHill Alpha 1 (Linux)
31 MB
Comments
Log in with itch.io to leave a comment.
No promises, but wait a little.
Hi Tom and Imants, I'd like to see if it is possible to license and integrate Rollhill into our competitive games platform for hyper casual titles. Please feel free to email on sam.turner@met.events thanks!
Feels fairly difficult to me. I think I can never pass the damn bridge in Rockpath!
Anyway, great game. The physics seems very realistic. The idea is awesome - if all you can do is slight left and right steering and everything else is controlled by the gravity and the initial impulse, what is your chance to reach the end? That's what snowboarders do, I guess.

wait people still play this is 2020 wow this means this game is not dead yet...
Cool review, thanks! I felt that if 'Forest' would be a tad nastier, then at least your video wouldn't be kid friendly anymore. :D
Awesome concept! Needs bluegrass music and a highway level

Cool to hear!
How would you rate the difficulty of the game and did you finish on all 5 of available levels?
I did! I would rate the first three levels as easy, and the last two (snowtop, forest) as somewhat challenging. If any more levels were to be added, I think they could be much harder. It looks like you designed a lot of these levels to make it impossible for the player to "cheat", but I see that as an invitation to find my own shortcuts.

It's such a satisfying physics engine; you've got something really cool here!

It's actually how I play the game myself. I still find new and crazy shortcuts in Forest from time to time, despite that I myself made those levels. I blocked out some game-breaking shortcuts or made them harder or useless, but overall it's kind of welcomed to try and break and shave off seconds.
We've resurrected the project!
If you're interested, we have opened community Discord server: https://discord.gg/uGzUY9UZrD
We are running a private test at the moment, if you want, can join in on the fun.
Recent updates have introduced improved physics and we're changing focus away from simple tracks to SNOWTOP/FOREST like going forwards or even more challenging. Core audience only plays FOREST anyway - join in on the fun and shortcut finding.
COMPETITION TIME
---
Until we implement in-game leaderboards which are high on the feature list, let's do it ghetto style!

FIRSTSLOPE RECORD TIMES
---
Post your FIRSTSLOPE record times either as finish screenshots or full run videos as a reply to this comment.
Can't seem to break 17" with this one...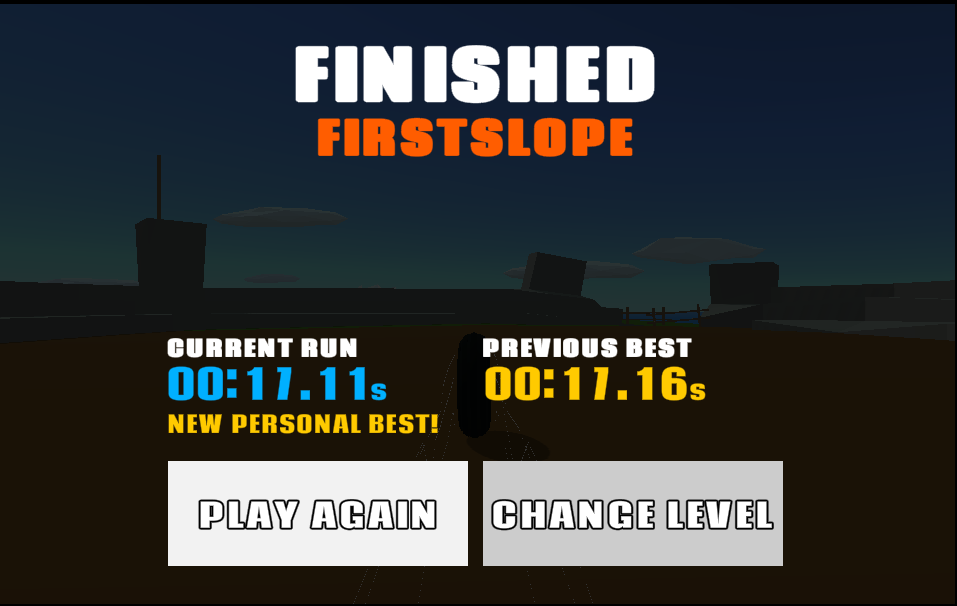 ELEVATION RECORD TIMES
---
Post your ELEVATION record times either as finish screenshots or full run videos as a reply to this comment.
29.23s.. without cutting too much corners 27.xx should be possible.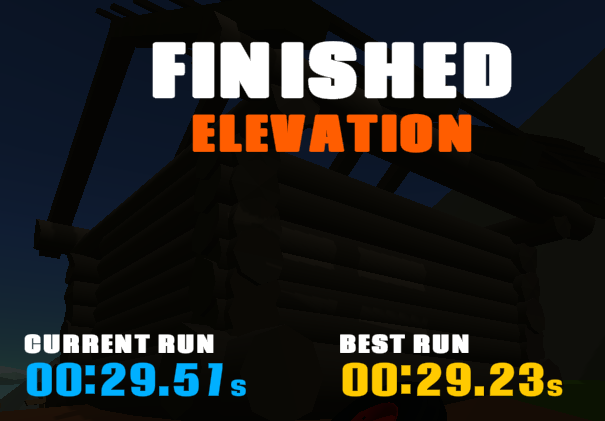 SNOWTOP RECORD TIMES
---
Post your SNOWTOP record times either as finish screenshots or full run videos as a reply to this comment.
34.11 seconds!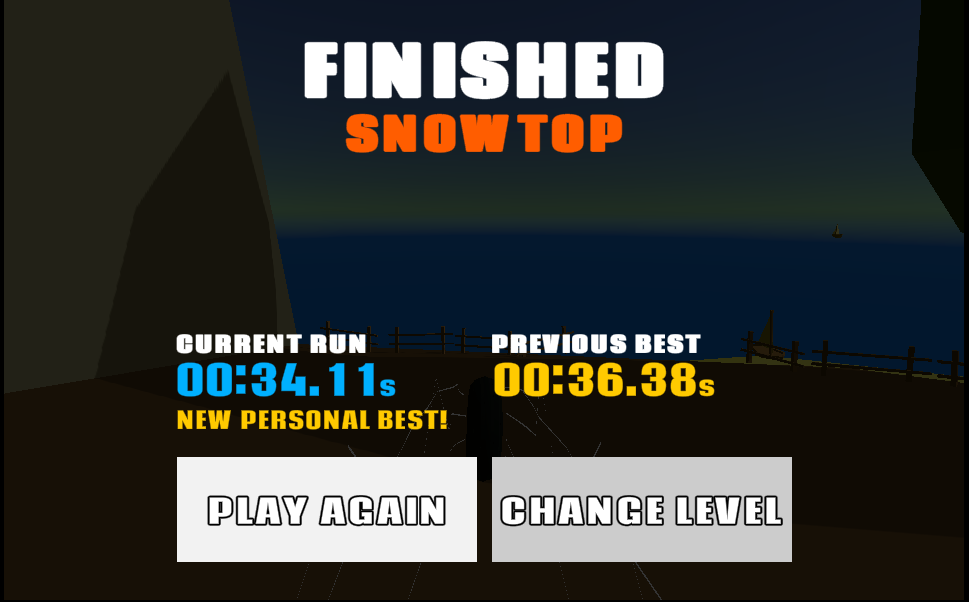 33.95 seconds 😀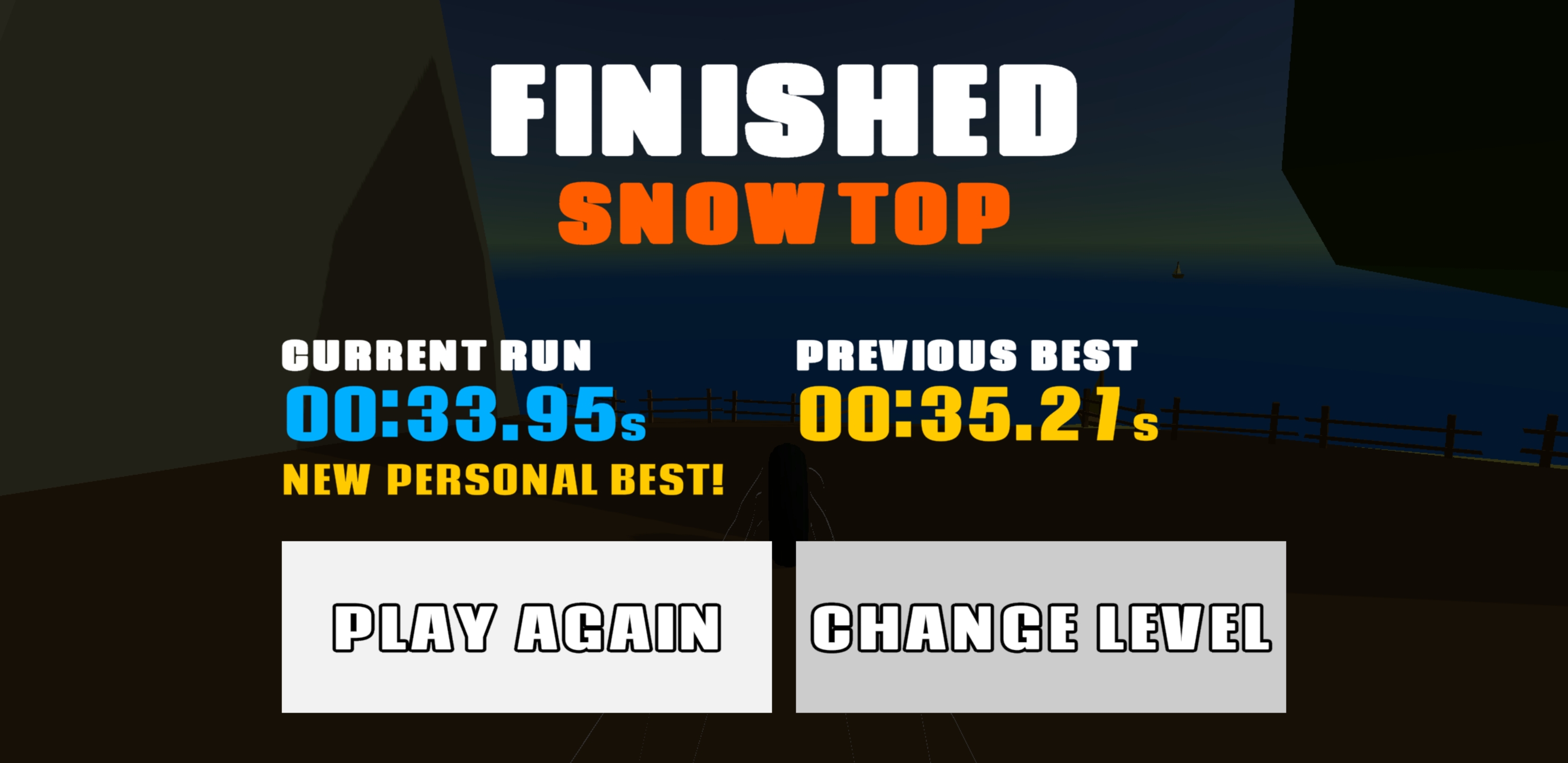 ROCKPATH RECORD TIMES
---
Post your ROCKPATH record times either as finish screenshots or full run videos as a reply to this comment.
40.69s - while sleeping on keyboard.. I guess 37..38.. maaaaybe under 35 should be possible.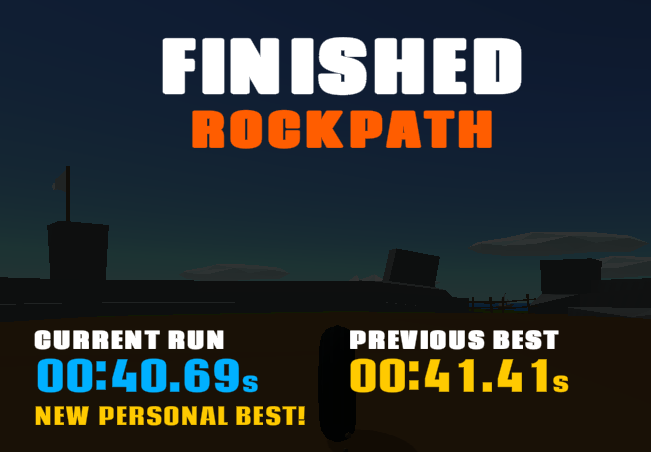 37.51s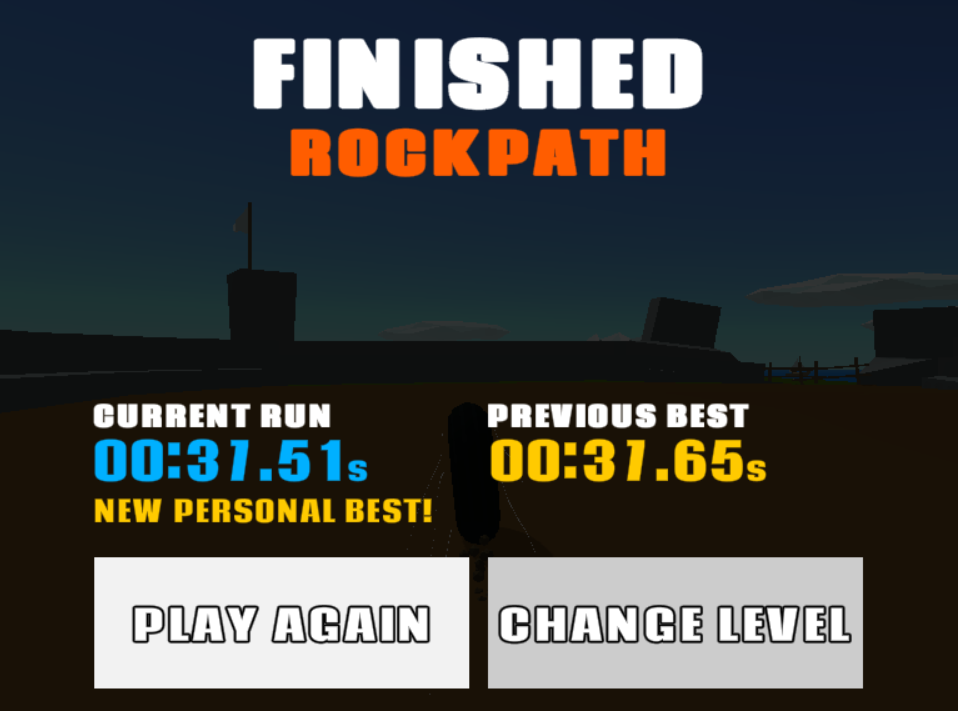 FOREST RECORD TIMES
---
Post your FOREST record times either as finish screenshots or full run videos as a reply to this comment.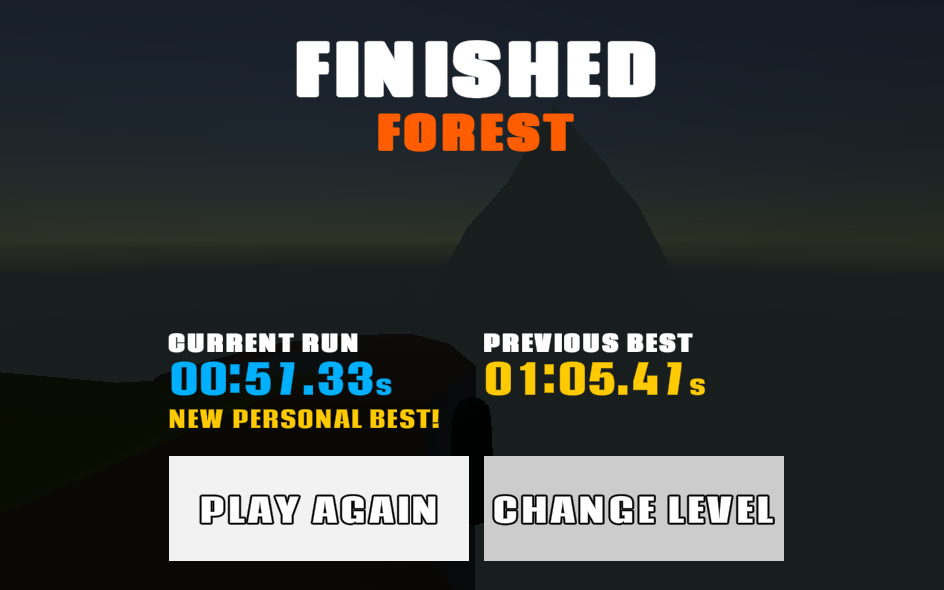 Sub 60 seconds for the first time! Great game!

46.76s